The summer has come to a close as we're getting used to the new school routine. I can't believe it! Our 5 year old Jackson has started kindergarten. When did he get so big?! He's doing great so far with the changes. His teacher is wonderful - just the right twist of sweet and firm. She'll get these kids ready for first grade for sure!
We don't have a bus for kindergarten in our district, so I am missing the experience of waving goodbye as he steps on the great big cheese wagon. Instead we hop in the car to drop off and pick up. He was so excited for his first day! Liam misses him during the day but he's quickly getting used to having me to himself. :)
On the work end of things I've been plugging along. August was a very busy month, hopefully you didn't miss the premier stocking at
The Fifth Monday
! I didn't get a chance to blog about it. The ladies of
Universal Mama
and
Necessitae
will join forces each month when a fifth Monday occurs to offer incredible collaborations and the best of our best offerings. I was thrilled to collaborate with Tickety Bu as well as Beach Plum Kids.
With Tickety Bu we offered an ultimate bring home baby set.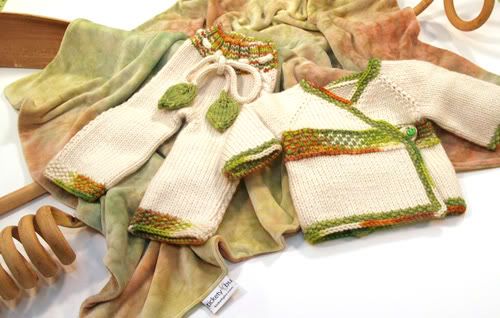 and with Beach Plum Kids we created a set perfect for fall. A fleece jacket embellished with a sweet fox along with a Hudson Hat using Western Sky Knits "Foxes" colorway.
As for upcoming stockings I'll be taking a break from my usual haunts while I wrap up my custom waiting list. I appreciate the patience of those of you who are on there! I'll be contact you as I work through the list and keep posted here of my progress. I do have one guest stocking coming up where you'll find something special instock - not for a couple weeks though.